Transcript
Edit
Orin Johnnason <orin@BFAC.com>
08/21/2044 10:17 AM
Ms. Washington,
My name is Orin Johnnason, and I am writing as a representative of Bellevue's Fine Arts Consortium in alliance with Johnnason Galleries. As you may know, we have a long history of taking fairly unknown artists and bringing new light to their work, elevating them to a place of great significance in the public's eye (e.g. Cade Lolinaro, Quinn Burzynski, and Jade Van Zuylen were all represented by our Consortium early in their careers). Recently, I stumbled upon your work from several years back, in relation to the group known as the Exiled Artists. I was astonished. Really astonished. So fresh, so somber, so lovely.
I'll cut to the short of it, I want to ask you to do a fresh series for the opening show of our new Johnnason Galleries location in Olympia. This series would be a continuation of the themes present in your work about Seattle. I truly feel than tin these times, with the beacons just erected and Olympia becoming a new bastion of prosperity and joy, in these times I truly feel that a voice from the not-so-distant past, a voice which knows despair and loss, which knows poverty and tragedy, which knows death, a voice which has roots in Olympia but can speak about Washington as a whole - your voice - could really and truly resonate.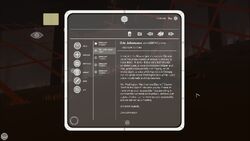 Ms. Washington. May I call you Eleanor? Eleanor. Don't let this opportunity pass you by. Please let me know as soon as possible if you are willing to continue this conversation in person, perhaps over a glass of wine. Let me know as soon as possible, and we can set up a meeting.
Sincerest regards,
Orin Johnnason