Transcript
Edit
YL 183
A moon had passed & finally I feel redy to take note once mor. A finding not new, but a feeling that demands record. At the leviathans was strange featur seemingly not of much note, long veins of coars, unnatural stoar firing off in various directions. With nothing els to guide us, we followed one, walking not on it, but alongside. Joss said shed seen such things befor, that they are known to be tendrils, shoots springing from dark places, and wer occasionally crossed but never followed on hunts. It seems now a lifetime sins Joss & ever then things feel cold, quiet. May be the shadow of the leviathan has been cast on us & we are Lost. Perhaps Joss was just in her hesitation, but it is now too late, and still I do not regret, tho if our friendship is dead I mourn it. But what the Father couldnt tell me, Ill lear myself. For the better of us all.
& we hav learned somthing. We chos a tendril and followed it south & it led, nearly unbroken, to yet another heap of leviathans. & from this one, again mor tendrils. One that apparently used to cross the vast river to south, but has scrumbled & fallen in.
It is maddening, but I cant help but imagin each tendril leading to mor leviathans, duplicating off into wild, mind-numbing multiplisity.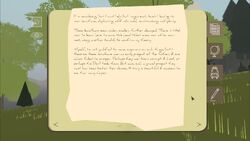 These leviathans seem older, smaller, futher decayed. There is littel mor to learn here, Im sure. We head West once mor after som rest, along another tendril, to confirm my theory.
Myself, Im not qualified to make suspicions on such things, but I theorize these leviathans wer an early project of the father, & one which failed to prosper. Perhaps they wer born corrupt & Lost, or perhaps the Devil took them. But awe, such a grand project they must hav been befor ther demise. It truly is beautiful & awesom to see ther many shapes.